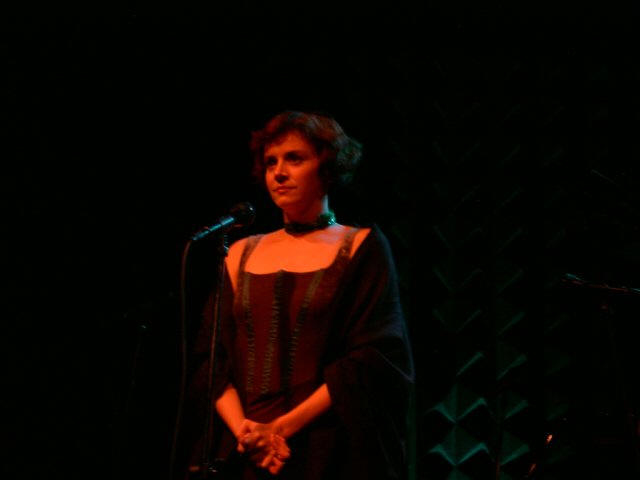 New York Times, by Anne Midgette
...Christianne Tisdale, who demonstrated the skill, perhaps still evident on Broadway but almost lost in the opera house, of acting with her voice. I wasn't just a question of register; she used a different vocal color in "Siren Song" than in "Cleopatterer," which requires a kind of working-girl-ese.
Times Record News, by Richard Carter
Christianne Tisdale and her gorgeous soprano voice may have reminded audience members of Julie Andrews, a popular Rodgers actress, who also happens to be her idol. Tisdale's solo performances were divine in "falling in Love with Love," saucy in "I Cain't Say No," and lovely in "Bewitched, Bothered and Bewildered."
Variety, by Robert L. Daniels
...Howard McGillin joined a fetching Christianne Tisdale to reveal the simple, cozy pleasures of "The Blue Room." ... Foxy soprano Tisdale brought a distinctively quiet introspection to "A Tree in the Park" and added a sweet, girlish heart thump to "Here in My Heart."
Citizen's Voice, by Alexander Choman
Ms. Tisdale, attired in a thematically striking red dress, sang magnificently on Cole Porter's "My Heart Belongs to Daddy" from "Leave it to Me." Ms. Tisdale demonstrates amazing range and also has a charismatic stage presence that the audience loved.
The Syracuse Post Standard, by Chuck Klaus
...Christianne Tisdale--a veritable vocal gymnast. Cole Porter's "My Heart Belongs to Daddy" was given a sultry spin by Tisdale...and Tisdale's wonderfully sung "Think of Me" from "Phantom of the Opera."
The Hamilton Spectator
Fine performances by Jim Barbour as Noah and Christianne Tisdale as Gabriel let us see, even in this short glimpse, the gold in the ore of this work in progress.
Barbour and Tisdale's duets from Showboat and Carousel plus Bess You Is My Woman Now were luscious...
The Columbus Dispatch, by Barbara Zuck
On Broadway, it isn't just the voice, it's also the packaging, and these women -- Kirsti Carnahan, Liz Larsen and Christianne Tisdale -- have it all put together...with Tisdale demonstrating a true coloratura soprano. You may have to look good but you still have to sing.
Berkshire Eagle by Richard Houdek, Richard Rodgers Cabaret Review
Christianne Tisdale, the ebullient ensign Nellie Forbush in "Sough Pacific," opened the cabaret with a persuasive delivery of "Baby's Best Friend," a song about motherhood with more than the usual civilities, employing the authentic accent and the same panache Beatrice Lillie must have invested in the original 1928 production of Rodgers and Hart's "She's My Baby." Tisdale has a superbly-produced voice that can go in many directions.