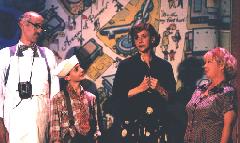 New York Times, by Alvin Klein
Christianne Tisdale (Lenore) and J. Robert Spencer (Barnaby) are affable as the honest sweethearts, with integrity intact, as well as a real sense of screwball comedy in a ludicrously staged duet…stylish performers
Variety, by Markland Taylor
Christianne Tisdale's whole-hearted performance...
Boston Globe, by Richard Dyer
One member of the cast was exceptional, Christianne Tisdale...
Newberkshire.com, by Frances Benn Hall
Christianne Tisdale has a strong Garland-type voice and uses it well.
The Record, by Bob Goepfert
Christianne Tisdale is a charming Lenny, the girl who has ideals. She sings well, projects an energetic spirit that makes us like this strong-willed woman, who is anxious to fall in love with a person who has a strong sense of commitment... he and Tisdale form a nerd-poster couple for which we can root.
Berkshire Eagle, by Jeffrey Borak
…played with dimension by Christianne Tisdale, who has a keen sense of the rapid-fire screwball comedy style.
Pittsfield Gazette, by Jonathan Levine
Christianne Tisdale skillfully turns the radical Lenore into a more feminine version of Zelda from the "Dobie Gillis Show."
Metroland, by Ralph Hammond
The other standout is Tisdale's sensible Lenore, who's high cheekbones become aglow with love while her hard eyes turn to polished gemstones. Add a clear, soaring voice and she can hold anyone's attention…
The Daily Gazette, by Paul Lamar
What can you say about this company but yes? With marvelous singing and acting from the leads, Spencer and Tisdale.
The New-Times, by Chesley Plemmons
The young and vivacious Lenore Hirsh (Christianne Tisdale) is so much a socialist you can almost see her red underwear…Tisdale and Spencer make their wallflower characters bloom
WBRK Radio, by Ron Lee
Christianne Tisdale is delightful as Lenore…appealing, spunky, vocally brilliant.
Litchfield Times
Christianne Tisdale makes Lenore a feisty yet vulnerable precursor of the feminist movement; her voice is rich and precise.