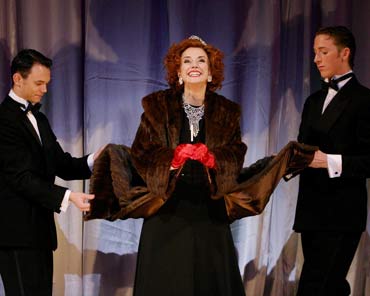 THE DAILY TELEGRAPH by Michael Kennedy
Christianne Tisdale threatens to steal the show as his secretary.
OPERA MAGAZINE by Rodney Milnes
…duly stopped the show, as did the Cole-Porterish "Very, very, very," sharply delivered by Christianne Tisdale, who would have come within an ace of stealing the show were not this a true ensemble cast.
THE JOURNAL by Thomas J. Hall
Then there is loud-mouthed, live-wire New York secretary, Molly Grant, played by Christianne Tisdale, who probably merits the price of a ticket herself.
YORKSHIRE DAILY POST by Gillian Haworth
The art collector's secretary, played by Christianne Tisdale, was perfection -- an absolute hoot.
LIVERPOOL DAILY NEWS by Glyn Mon Hughes
For humour, none could match Christianne Tisdale who sang Molly Grant, a fine voice and one which could mimic many styles.
THE LEEDS GUIDE by Tom Tollet
...the feisty and indefatigable Molly Grant of Christianne Tisdale.
DIGYORKSHIRE.COM by
Oliver Mantell
All of the main characters had great stage presence and carried off this more traditional approach with gusto. None more so than Christianne Tisdale, playing the tycoon Whitelaw Savory's secretary, whose character was particularly complex, alluring and amusing.
MORNING STAR NEWS by Karl Dallas
The singing is so good, from soloists to the excellent chorus, that it is almost invidious to single out any for special praise, but two women are undoubtedly vocal stars of the show...Molly Grant is a wonderfully feisty Christianne Tisdale.
MUSICWEB.UK.NET by Robert J. Farr
Christianne Tisdale...is Savory's feisty p.a. She acts with sparkle and conviction.
BBC NOTTINGHAM
...spicy and varied set of misfits and maniacs, especially Christianne Tisdale as a firecracker secretary.
JEWISH TELEGRAPH by Hillary Miller
The wittiest humour and best deadpan performance came from Christianne Tisdale...
ILKLEY GAZETTE by Goeffrey Modgridge
...countered by the lighter vocal touch of Tisdale's fiery secretary whose rasping one-liners had the audience in stitches.
SPECTATOR by Michael Tanner
Christianne Tisdale as the randy secretary is the most idiomatic performer...
METRO by Tina Jackson
Christianne Tisdale adds a worldly, witty dash of Broadway-style pizzazz as the gold-digging Molly...This paper actually credited me as Christianne Toker. Do they know something I don't?
DERBY TRADER by Patrick O'Connor
But also look out for fine comedic performances from Christianne Tisdale...
CONCERTO.NET by H.E. Elsom
Christianne Tisdale … ideal as Molly Grant, the Eve Arden role in the movie, the patient but clear-eyed PA of philandering art connoisseur Whitelaw Savory. This production had Molly in love with Savory throughout …negotiated the sentiment and venom well.
OPERA NEWS by George Hall

...with Christianne Tisdale getting more than her fair share of clever retorts as
his girl-Friday Molly Grant and delivering them all with panache.
YORKSHIRE POST by David Denton
Christianne Tisdale provides a virile Molly for the hit song, "Very, Very Rich" and is the complete foil to…rather laid-back Savory.
STAR by John Highfield
...Christianne Tisdale's delightful wise-cracking secretary...
SHEFFIELD TELEGRAPH by Bernard Lee
...Christianne Tisdale who had a ball as Molly Grant.
THISISYORK.CO.UK by Martin Dreyer
Christianne Tisdale as his feisty secretary...completes a superb team.
BBC SOUTH YORKSHIRE by Ali Davies
...wisecracking Dorothy Parkeresque secretary Molly (Christianne Tisdale), who is desperate to find the key to any man's ignition.
THE INDEPENDENT by George Hall
…while other scene stealers include Christianne Tisdale as Savory's wisecracking girl-Friday Molly Grant.
THE GUARDIAN by Alfred Hicking
...it features a gleeful procession of star turns from…Christianne Tisdale as his sassy secretary.
FINANCIAL TIMES by Richard Fairman
…there are brassy New York cameos from Christianne Tisdale as the go-getter secretary...
THE BRITISH THEATER GUIDE by Peter Lathan
...Christianne Tisdale as Savory's secretary Molly Grant who clearly enjoyed every second she was on stage - and so did we!
THE CLARION by Viv Hardwick
Christianne Tisdale, an absolute hoot as his sassy secretary Molly Grant...
THE STAGE ONLINE by David Blewitt
Christianne Tisdale swap/s insults with brio.